We are an Ottawa-based team founded in 2022. We seek to disprove claims of the paranormal in hopes of discovering we can't! We investigate private residential spaces and public haunts, free of charge. We also host events and workshops at public haunts internationally and locally. 
Follow us to join the adventure!

Keep it creepy, keep it Class-A!
We've got all kinds of members with all kinds of relevant backgrounds and skills who are ready to help! Meet our investigators…
Kyle Benoit (He/Him)
Co-Founder/ Tech Lead/ Inventor & MacGyver
Kyle is our resident MacGyver and tech savante here at Class-A. He leads the tech department with an uncanny amount of knowledge and background in things like: audio capture & analysis, device setup, time–frequency analysis, EMF, building automation, polaroid development, video sensor devices, infrasound measurement, vintage analog equipment, and the list goes on.
When he's not troubleshooting equipment or inventing new gadgets, he's likely watching hockey, football, & paranormal shows, or playing some drums and jamming to metal.
Kyle plays an essential role to our evidence collection and analysis, while doing the heavy-lifting behind-the-scenes as well, literally.










Taylor Robert (They/She/He)
Founder/ Investigative Lead/ Social Media/ Public Relations/ Admin
Taylor has been fascinated with the 'mysteries of the universe' ever since she can remember. Things really took a turn in 2010 when she found herself living in a home with more than just a little 'character'. Unable to ignore the strange and invasive occurrences, she began to dig into possibilities. What she found ultimately led her to leave the home and seek out others with similar experiences.
With 6 years experience exploring psi phenomenon by scientific means, she felt drawn to form her own collective of like-minded skeptics and curious cats. She believes a scientific approach is the only way to get to the truth, so she likes to always creep it real.
When she isn't managing the investigative department of Class-A paranormal team, you can find her watching horror films, bartending, nannying, doing hair, making art, tattooing, writing, or cuddling up with her wife, cat, and dog.


Researcher/ Location Scout
Ji has always been a fanatic of the paranormal and loves to travel in his spare time, in search of new adventures. Since a young age Ji has always been interested in finding out about the afterlife and whether or not spirits do really stick around. Ji has had many experiences with the 'paranormal' and has conducted many investigations (and even participated in a couple of séances!)
In his downtime you can find him watching horror movies, searching for new adventures, reading about random stuff, and couch-surfing with Junior. Ji has a background in law which always lets him seek a balance of probabilities on investigations. He's married to fellow investigator Reem!
You can follow Ji on his instagram: @gmansadventure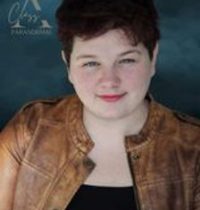 Pre-Inv./ Admin Assistant/ Base Control
While the other kids played with Barbies and blocks, Sam spent their childhood researching supernatural phenomenon and investigating the unexplained. With this special interest tucked into a back pocket, Sam pursued a Bachelor of Arts at the University of Ottawa and built a career in pediatric health care and child development. When the pandemic hit and life shifted, they took the opportunity to open a small business to support local entrepreneurs through the shutdowns. She also decided to go back to school and pursue a post-graduate diploma in Therapeutic Recreation. In their space time, Sam enjoys going on adventures, travel, music, and spending time with her kids.
Follow them @bearcubsandme










Tony (He/Him)
Tech Assistant/ Electrical Specialist
Tony is our resident electrician. He knows about charges in the air, spooky electrical malfunctions, and building inspection. He acts as general help to the tech department. Tony would rather stay mysterious for now.










Location Scout/ Marketing Queen
Sarah is a lover of travel, adventure, and all things spooky. When she's not off ghost hunting, she can be found homeschooling her five children, travel writing, working as a professional photographer, taking courses at Carleton University, creating art, playing music, or even coaching archery. Her life motto is "DO ALL THE THINGS!" and she certainly lives by that motto every single day!
Sarah feels that everything is an adventure, and that includes paranormal investigation. "There are lots of things that we can't explain, but I'm certainly going to try," says Sarah. "I have always had an interest in the paranormal, ghost stories, and all things spooky. I don't just accept that ghosts are real though; I'm incredibly skeptical throughout the process, so we rule out every other explanation before beginning to consider something as 'paranormal'."
You can check her out @AdventureSeekerSarah on Insta, TikTok, Facebook, and EhCanada travel as she documents her adventures, including hanging out at lots of spooky locations with the Class-A team!










Bhuvan Aeon (He/Him)
Pre-Inv./ Media Rep./ Client Relations
Bhuvan is a cognitive neuroscientist with particular research focus on mechanistic and functional accounts of perception, consciousness, mental-training (mindfulness) and decision-making in humans. As a scientist, he has worked across North America (USA, Canada), Europe (UK, Denmark, Russia), Asia (India, China) and Australia. He is enthusiastic about learning and exploring paranormal claims through rigorous approaches from various traditions. His hobbies include mountaineering, (listening to) classical music, philosophy, and vegan cooking.











Researcher/ Location Scout
Reem was always scared of the paranormal...until she met Ji (her husband). During her first paranormal investigation, she was so scared she sat in the car for the whole three hours. Now you can find Reem loving and enjoying it more than Ji. Reem has a background in international business which she studied in Lebanon. In her downtime you'll find her cooking, watching horror movies, looking at the latest fashion trends, and cuddling with her cat BisBis and dog Haifa. Reem is always looking for new adventures.
You can follow Reem's adventures on her instagram: @reemsadventure










Corinne "Coco" (She/Her)
Researcher/ Pre-Inv./ Client Relations
Corinne has always been curious about the paranormal. She is skeptical about the existence of ghosts in the proper sense but acknowledges that there is still a lot we don't know about how the universe around us works. She has experience in videography, writing, and research.
When she is not on the field, she is probably writing something, eating a snack, or reading a webtoon.










Tech Assistant/ Electromagnetic Specialist
Bilel got the Ph.D. degree in engineering electromagnetics from UMontreal (Ecole Polytechnique) in 2019 and is currently a postdoctoral researcher at UQO. His interests include reading books about the theory of evolution, the history of the universe, and ancient civilizations (Especially sumerian civilization which emerged in Mesopotamia). He is also a fan of AC Milan (team of 2007) and he enjoys playing ping pong.
Mascot/ Ghost Sniffer Extraordinaire
Junior is a registered service and therapy dog and has been with Ji for three years. When not assisting or working, Junior loves to play ball and eat treats in his spare time.
You can follow Junior with his team @jrthefrenchton (insta and TikTok). Have a wooftastic day!